Laughter
Seeing someone's face lit up with laughter immediately evokes an emotive response. We're wondering what they're laughing at or why they appear so happy, and when the photo captures their eyes in just the right light we feel it too. Photos of laughter appear more natural and less posed, and since laughter is infectious we want to see more.
Triptych
A triptych is a work in 3 parts – think a stained glass window or three panels of canvas. Yours could be three separate photos that tied together with the same subject, maybe different parts of the face or three different angles. Try the same photo edited in slightly different ways or create dramatic, pop-art style prints. The only rule is the rule of three.
Peekaboo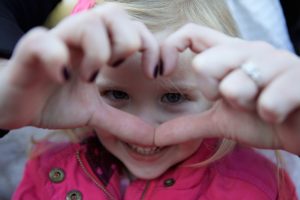 Who says a portrait has to be of the full face? A child peeking through their hands, someone viewed through a long tunnel or holding something in front of part of their face can all add an interesting dimension to your photos. Maybe someone is peering curiously through a crack in the fence or over the wall… that's all it takes to get people wondering what the subject of the photo could possibly be looking at.
Lighting
Lighting can dramatically change a portrait. When lighting is behind the object of the photo is dark and obscured and can add an atmosphere. When lighting is full on the photo is washed out, but maybe that adds a timestamp or a carefully careless element to the picture. Lighting can be used to create dramatic shadows or silhouettes – change the lighting and you can change the composition completely.
Direction
We expect a portrait to be a front view, or at least a slightly-to-the-side view of someone's face. But what if we broke the rules completely and took a portrait from the back? Depending on the background or foreground of the photo we might be creating the question of what the person is looking at, or the reason their back is turned. It could be anger or embarrassment, maybe their shoulders are shaking with laughter or they've turned to see something that we can't. Creating that curiosity can add interesting element to your photo.